Academics
Computer Science, Technology & Business

Natural & Physical Sciences

Comp. Sci., Tech. & Business

Physical & Natural Sciences
TATE with UTSA
Transfer Academy for Tomorrow's Engineers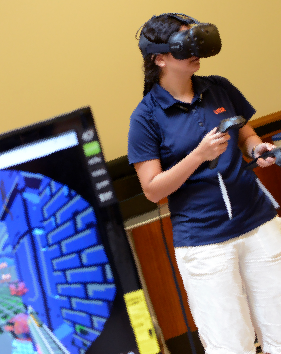 Northwest Vista College (NVC) and The University of Texas at San Antonio (UTSA) have partnered together to offer students a seamless pathway to earn a four-year degree in engineering from UTSA's College of Engineering.
NVC engineering students can participate in the UTSA Transfer Academy for Tomorrow's Engineers (TATE) program, where students will be co-enrolled at both institutions, take engineering courses taught by UTSA and NVC faculty. Upon completion of the program, students will transfer to UTSA to obtain their bachelor's degree in any of the six UTSA engineering degree programs.
Are you an Engineering student considering transferring to UTSA?
Please consider attending the upcoming virtual information session for TATE- Transfer Academy for Tomorrow's Engineers.
TATE Information session for prospective Spring 2021 students:
October 13th, 1-2 pm.
Join Zoom Meeting
https://alamo.zoom.us/j/95462594262
Meeting ID: 954 6259 4262
Why join the Transfer Academy for Tomorrow's Engineers?
UTSA COURSES & NVC
It's an opportunity to take UTSA engineering courses from UTSA and NVC faculty.
ASSOCIATE + BACHELOR'S
It's an opportunity to earn your associate of science degree at NVC while pursuing your bachelor's degree.


COHORT LEARNING = SUCCESS
It's a cohort-style program where UTSA TATE participants will take math, science and engineering courses with other TATE participants.


STUDENT SERVICES X2
You'll have access to student services, student activities, student organizations, etc. at both institutions.


AFFORDABLE PATHWAY
It's an affordable 4-year pathway to a UTSA engineering degree.
CAREER OPPORTUNITY
Top employers of UTSA graduates include the U.S. Air Force, Valero Energy, H-E-B, Intel, CPS, USAA, IBM, Accenture, Proctor & Gamble, and more.
$60,797
Average starting salary for engineers.
UTSA College of Engineering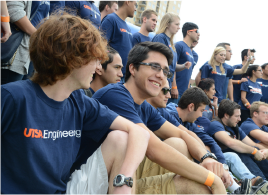 As one of the fastest-growing engineering colleges in Texas, UTSA creates an atmosphere of innovation, research, and collaboration.
Our diverse faculty gives you exposure to the best of the best on your journey to becoming a skilled technologist that will make our world a little more brilliant, efficient, and powerful. Our state-of-the-art facility with cutting-edge teaching environments provides the opportunity for a hands-on learning approach.
Degree Programs
The UTSA College of Engineering (COE) offers six Bachelor of Science degree programs:
Biomedical Engineering (BME)
Chemical Engineering (ChemE)
Civil Engineering (CE)
Computer Engineering (CmE)
Electrical Engineering (EE)
Mechanical Engineering (ME)
What to Expect
In order to complete the UTSA TATE program at Northwest Vista College and successfully transfer to UTSA, students must:
TAKE 12 CREDIT HOURS / SEMESTER - FALL and SPRING
Enroll in a minimum of 12 credit hours each fall and spring semester between NVC and UTSA.
TAKE 6 CREDIT HOURS / SEMESTER - SUMMER
Enroll in a minimum of 6 credit hours each summer semester between NVC and UTSA. Students may be able to credit some summer internship employment towards college credits (discuss with your UTSA advisor).
TAKE 1 UTSA COURSE / YEAR
Enroll in at least one UTSA approved engineering course each year.
EARN 50+ CREDIT HOURS
Complete at least 50 hours of transferable work from NVC, including two math and two science core curriculum courses and 10 hours of UTSA engineering courses.
CALCULUS COMPLETE
Complete all required calculus courses for a UTSA engineering degree.
2.5-3.0 CUMULATIVE GPA
Maintain 2.5 cumulative GPA (3.0 GPA if transferring into Biomedical or Chemical Engineering).
Eligibility & Requirements
Be enrolled at NVC and follow one of the TATE transfer advising guides.
Be Calculus ready or be able to be calculus ready within one semester and TSI complete, as determined by Northwest Vista College.
Complete the application form below. Upon qualification, eligible students will receive an application link to their email address.